OET ( Occupational English Test )
OET ( Occupational English Test )
Can't get the desired bands in IELTS, then take up OET which helps the healthcare sector to achieve their dreams.
The Occupational English Test (also known as OET) is an international English language test for the healthcare sector. It assesses the language communication skills of healthcare professionals who wish to register and practise in an English-speaking environment.
OET is available for the following 12 professions: dentistry, dietetics, medicine, nursing, occupational therapy, optometry, pharmacy, physiotherapy, podiatry, radiography, speech pathology, and veterinary science.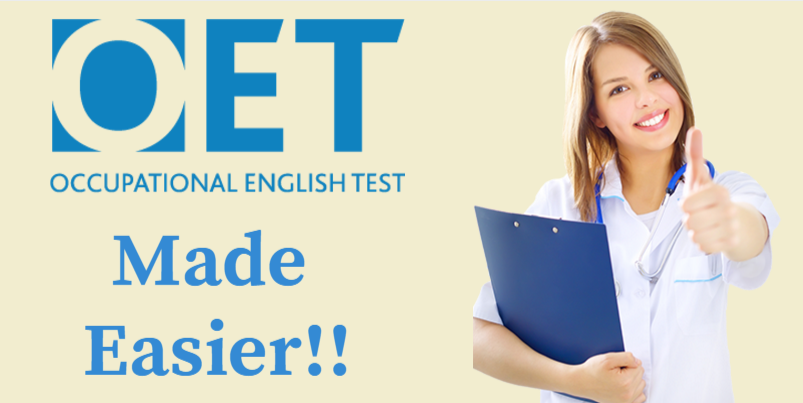 Assessment Structure
OET covers all four language skills with an emphasis on communication in a healthcare environment.

Listening
approx. 50 minutes
Same content for all healthcare professions.

Part A: recorded, simulated professional/patient consultation with note-taking questions.
Part B: recorded talk or lecture on health-related topic, with range of short and multiple choice answers.
---

Reading
1 hour
Same content for all healthcare professions.

Part A: skim and scan short health-related texts and complete a summary paragraph by filling in missing words.
Part B: read longer health-related texts and answer multiple-choice questions.
---

Writing
45 minutes
Specific to profession, based on typical workplace situations.

The task is to write a letter, usually a referral letter. Sometimes, especially for some professions, a different type of letter is required: e.g. a letter of transfer or discharge, or a letter to advise or inform a patient, carer, or group.
---

Speaking
approx. 20 minutes
Specific to profession, based on typical workplace situations.

In a private room you will take part in two role-plays. You take your professional role (as a healthcare professional) while the interlocutor plays a patient or client, or sometimes a relative or carer.
Scoring
Each of the four sub-tests that make up OET are graded A to E, where A is the highest grade and E is the lowest. There is no overall grade.
| OET Grade | Description of ability |
| --- | --- |
| A | Very high level of performance |
| B | High level of performance, i.e. able to use English with fluency and accuracy adequate for professional needs |
| C | Good level of performance; however, not acceptable to a range of health and medical councils |
| D | Moderate level of performance; requires improvement |
| E | Low level of performance; requires considerable improvement |
Timing and results
OET is available up to 12 times a year and can be taken at test venues around the world. A full list is available on the www.occupationalenglishtest.org
Results are published online approximately 16 business days after the test. Official statements of results are sent out in the post following the release of online results. There is no overall grade – candidates receive separate grades for each sub-test.
Most recognising organisations require candidates to have at least a B grade in each of the four sub-tests and recognise results as valid for up to two years. Most recognising organisations also require that candidates achieve the requisite grades for each sub-test in one sitting. However, candidates should check with the organisation that regulates their profession to confirm current requirements.
---